Kendra Scott Donates $10,000 to ACM® Lifting Lives® in partnership with Country Artist Cam
Kendra Scott Donates $10,000 to ACM® Lifting Lives® in partnership with Country Artist Cam
Kendra and Cam Walk the Red Carpet at the 9th ACM Honors™
to Make Contribution to Nashville Music Community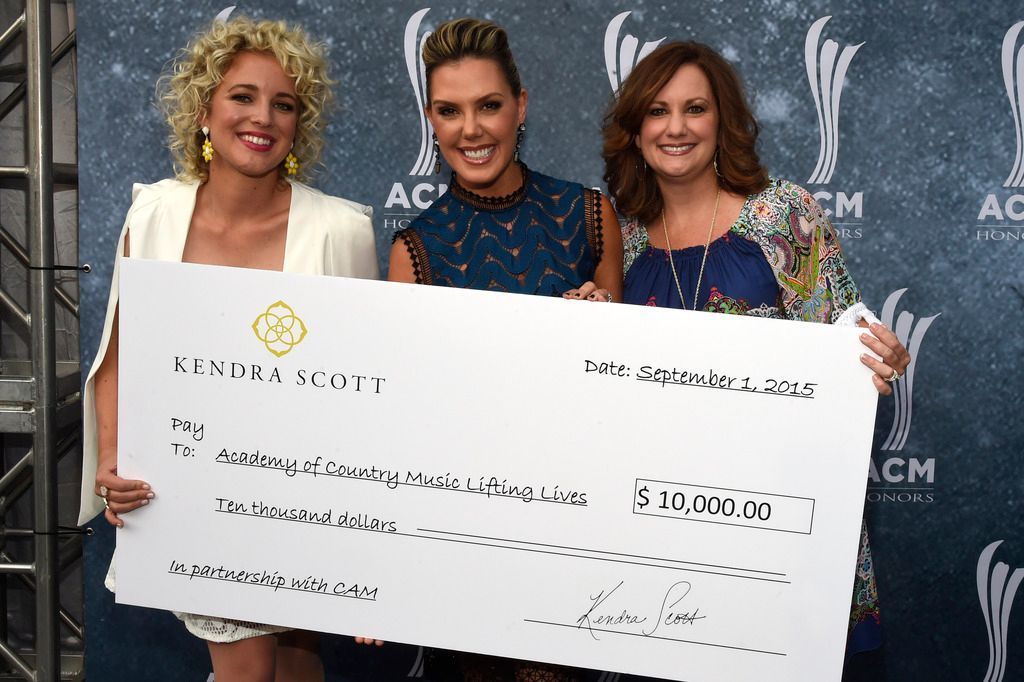 NASHVILLE, TN (September 2, 2015) –– Renowned designer, CEO and philanthropist Kendra Scott made a $10,000 donation to ACM® Lifting Lives® on the ACM Honors™ red carpet last night in Nashville, TN, presenting the check with country artist Cam to Lori Badgett, President of ACM Lifting Lives. Scott recently opened her 28th retail location in the Hill Center in Nashville, and is celebrating her Nashville store with an exclusive, invite only event while she's in town.
"I'm excited to partner with a young, fresh and talented artist like Cam who shares the Kendra Scott values of family, fashion, and philanthropy." said Kendra Scott. "To be able to make a donation to ACM Lifting Lives is such a pleasure for us because giving back is a huge part of what we do as a company on a daily basis. I'm thrilled to be able to be part of a wonderful event like ACM Honors and to celebrate our Nashville location in the process."
Kendra Scott started her jewelry company in 2002, with only $500 just three months after her first son was born. She went door to door to area boutiques armed with only a tea box full of her jewelry to present her designs. Kendra wowed potential customers with her infectious personality and unique eye for design. The foundation of Kendra's success has been her innate ability to utilize natural stones and custom designed shapes, which has brought her from a small start-up to a multi-million dollar business loved globally. Kendra has created collections of timeless pieces that have won over loyal fans, media and celebrities, like Cam, alike. Today, the company continues to design and operate out of Austin, TX with a focus on family, fashion & philanthropy. In the past 12 months, the company donated $1 million dollars and 50,000 pieces of jewelry while working with over 1,000 local and national organizations.
"The donation to ACM Lifting Lives continues the Kendra Scott philanthropic focus of supporting wonderful causes that make a difference in communities around the U.S.," said Lori Badgett. "We are honored to have Cam—the freshest face in country music right now—and Kendra partner with us to lift lives through the power of music."
Photo (L-R): Cam; Kendra Scott, Founder of Kendra Scott; Lori Badgett, ACM Lifting Lives President
About ACM Lifting Lives
ACM Lifting Lives® is the philanthropic arm of the Academy of Country Music dedicated to improving lives through the power of music. Through partnerships with artists and strong ties in the music industry, ACM Lifting Lives develops and funds music-related therapy and education programs, and serves members of the community who face unexpected hardships through its Diane Holcomb Emergency Relief Fund. Through generous donations and the support of artists and fans, ACM Lifting Lives is able to fund everything from disaster relief and helping communities in need, to music education in schools and music camps for those with disabilities, to supporting programs that use music therapy as a means to help our veterans and wounded warriors, while providing grants to help them ease back into life. For more information, please visit www.ACMLiftingLives.org.
# # #
Media Contacts:
Brooke Primero / Academy of Country Music
818-718-8800 / [email protected]
Tresa Halbrooks, LEGACY PR for Kendra Scott
615-669-6058 /

[email protected]