CARRIE UNDERWOOD AND PRODUCER ROSS COPPERMAN BRING MUSIC TO LIFE IN STUDIO DURING ACM® LIFTING LIVES® MUSIC CAMP 2016
CARRIE UNDERWOOD AND PRODUCER ROSS COPPERMAN
BRING MUSIC TO LIFE IN STUDIO DURING
ACM® LIFTING LIVES® MUSIC CAMP 2016
MAREN MORRIS VISITS CAMPERS AT FAMOUS BLUEBIRD CAFE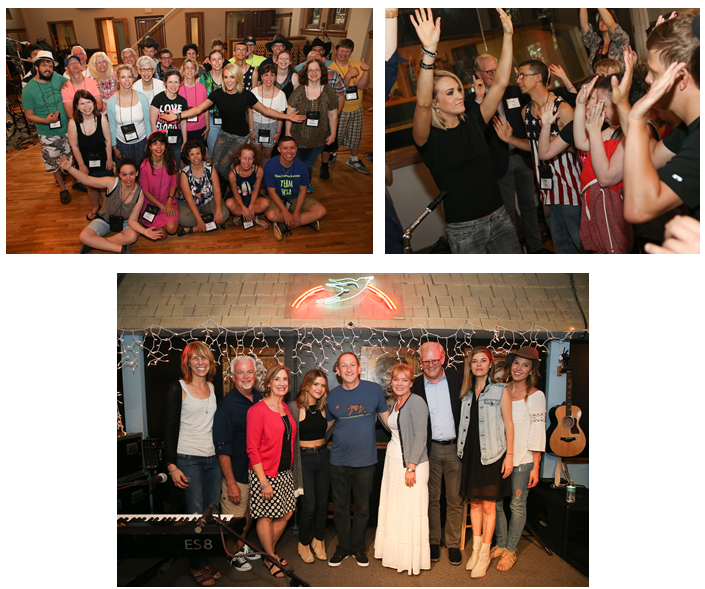 Encino, CA (June 28, 2016) – ACM® Lifting Lives® Music Camp is in session this week in Nashville, Tenn. with campers from around the country participating in a week of activities and excursions around Music City. The residential camp has the dual purpose of studying Williams syndrome while providing music enrichment through performance and education.
On Monday, Carrie Underwood visited the campers during a recording session, where they did a Q&A, sang a few songs together, followed by the campers recording their original song, "Happy Together" with producer Ross Copperman at Belmont University's Ocean Way Nashville Studios. The campers wrote the song on Thursday during a songwriting session with Eric Paslay and Ross Copperman.
Later that day, campers were treated to a special performance at Nashville's famous Bluebird Cafe with Maren Morris. Morris' performance included "My Church," her current single, "80s Mercedes" and did a Q&A with the campers.
The camp is a partnership between ACM Lifting Lives and Vanderbilt Kennedy Center for Excellence in Developmental Disabilities.
Photo #1: Carrie Underwood with ACM Lifting Lives Music Campers
Photo #2: Carrie Underwood interacts with campers at ACM Lifting Lives Music Camp at Belmont University's Ocean Way Nashville Studios.
Photo #3 L-R: Erika Wollam Nichols, Bluebird Cafe; Paul Moore, ACM Parliamentarian; Beth Moore, ACM Lifting Lives & Director of Community Development at Vanderbilt University; Maren Morris; Ed Warm, ACM Lifting Lives President; Teresa George, ACM SVP, Brand Integration & Strategic Partnerships; Stuart Dill, VUMC Entertainment Industry Liaison; Janet Weir, Red Light Management; Mary Catherine Kinney, Sony Music
Photo Credit: Getty Images/Terry Wyatt/Courtesy of ACM Lifting Lives
*High res photos available upon request.
# # #
Media Contacts:
Brooke Primero / Melissa Moldovan
Academy of Country Music
(818) 815-4219 / (818) 815-4218
[email protected]
[email protected]